This week, I'm excited to introduce Christina Ilyuk, AAC/AT Specialist for the Greater Lafayette Area Special Services (G.L.A.S.S.), as a guest blogger. Below she shares an inspiring story about how the C-Pen improved independence and confidence in reading for one of her 5th grade students this past school year.
---
"Finding the right tools to support the needs of my students is so rewarding, and finding the C-pen was a huge game-changer for my student! Thanks to this technology, my student is more independent, confident and accurate with his work." - Christina Ilyuk

Here's the Story

When I received a referral to do an evaluation for Assistive Technology for my student, I met with his teachers right away. They both said he struggled immensely with reading. My student was in 5th grade and was reading at about a 2nd grade level.

During an observation, I watched and listened as my student attempted to read a worksheet with sentences at his reading level. He frequently got frustrated, resulting in a couple of outbursts and avoidance strategies, and had to take several breaks. When he reached the end of the worksheet, I was astonished.

The worksheet was comprised of about five sentences, and it took him about 45 minutes to get through it. I could see that comprehension wasn't a problem though. Once he was able to get through the reading, he could answer the comprehension questions just fine. This is what made me think that a tool like the C-Pen might be a good fit for him.

As soon as I introduced this device to him, he immediately loved it! It was almost a night and day difference for him. He loved all the features and was able to pick up on how to use the device very quickly. We trialed the device through the next few weeks, his teachers and I keeping track of his progress using the pen.

His teacher was just amazed! One-page worksheets that would have taken him at least a half an hour to complete were now being accomplished in ten minutes with satisfactory work. My student made several comments to me about how much he loved using his pen, and you could just see the boost in his confidence towards his schoolwork.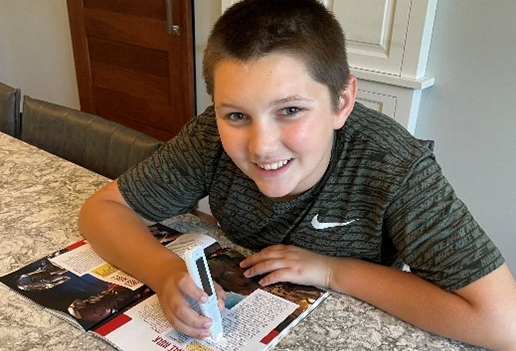 His teachers' goal was to make sure he was prepared to move into 6th grade as close to the level of his gen ed peers as possible. Before, they weren't sure this would be possible due to his frequent outbursts and frustrations when given work, even with material modified at his level. Now, he completes work independently and is able to work through longer assignments that are closer to his grade level. He is motivated and able to focus better.

I am so happy to say that he finished his 5th grade year off strong! The C-Pen is an awesome tool that I have tried with several other students since when evaluating for the best tools to support assistive technology needs. It is absolutely in the top favorite devices among my students!

I am so thankful to have PATINS as a free resource to be able to trial devices like the C-Pen, as well as other fun technology like touchscreen Chromebooks, adaptive keyboards and bone-conduction headphones, just to name a few, to support equity and opportunity for all of my students. I find the lending library catalog on the PATINS website easy to navigate so I can always find what I'm looking for, and the borrowing process is smooth!
---
"Do they want to know what I think?! It helps me to read really long sentences when I don't want to and really big words that I have never seen before. Lots of people might think a reader pen is a useless device but not people who have reading challenges. When there are lots of little words in a magazine or a book, I can just scan them with my pen and boom, it reads them to me and that way I know what it says!" – My student

"Getting to know my student before introducing any AT tools to him was so important in helping me know which tools might be best. We met several times to talk about his preferences, likes and dislikes when it came to activities and school. By actively involving my student in his evaluation process, his use of the C-Pen was successful because it was something he was interested in and excited about trying. Student autonomy is a must in educational programming!" - Christina Ilyuk