June, July and August! Three reasons why many individuals became teachers in my generation (or else as a means to avoid the draft). Three months of R&R!! No worries about lesson plans, IEP's or behavior problems. The alarm clock was turned off! Days were spent outside enjoying summer! Projects long neglected during the school year were able to get some attention. The deck could finally get stained! Landscaping projects were completed! But all good things had to come to an end. Soon days were added to the school year, summer professional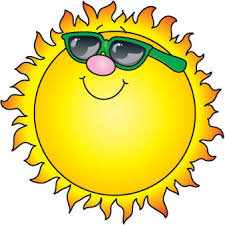 development activities were added and the carefree three months of R&R were history! Then balanced calendars were introduced and school began in July. Summer soon became abbreviated.
And lets face it summer in Indiana is very unpredictable. Hot and humid one day and grabbing a jacket the next. Certainly not the picture perfect summer, but much better than snow! While you are enjoying the days out of the classroom think of some ways that you can bring some R & R into your classroom for the fall. Rejuvenate and Reenergize! There are a few simple things that can be done to prepare for next school year. (I would personally suggest doing these things on those rainy summer days.) Blow the dust off the powerpoint presentations that you used last year. Run the accessibility checker on those presentations. Tag the clipart and graphics. Make your presentations truly accessible! Become adventurous and create some You Tube videos to help reinforce key concepts that you teach. Just remember to caption those videos to give access to everyone! (It is a simple process.) Get a little adventurous and check out some new websites, apps, or extensions that can assist your students in becoming successful learners. You will be amazed how quick any of the above activities can be to accomplish.
The rewards for your efforts? Teacher materials that are truly accessible! Students who will become engaged in learning! Students who will be exposed to multiple means of representation! Students who will become active learners!
Just like you I am hoping for warm, sunny days and some R & R! I do know that professional development activities will be sprinkled in among neglected home projects in order to be rejuvenated and reenergized for the fall. And, like you, I will find time to enjoy the alarm turned off and all that summer has in store for me! Enjoy the warmth! Read (or finish) that book! Enjoy time with family and friends! HAVE A GREAT SUMMER!!!!!!