Lately, several happenings in my life have seemed to converge on this one particular topic that I find fascinating; one cannot actively
evaluate
the show and
be
the show at the same time!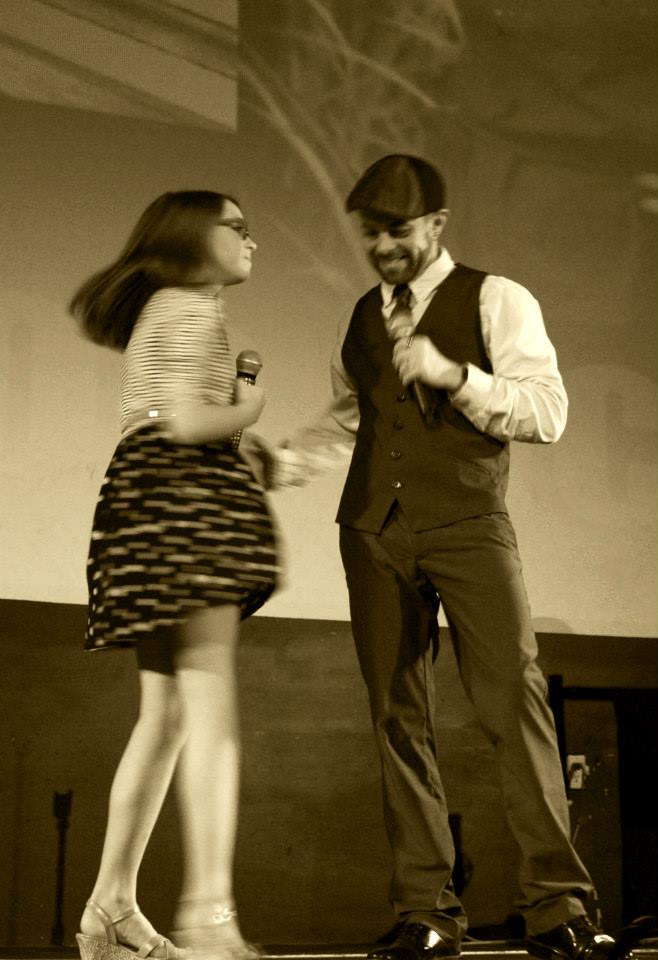 When my oldest daughter was about 11 or 12 years old, she and I began taking voice lessons together. Our voice-coach felt it very important that her students perform for real live audiences periodically, and I recall the very first performance she required us to do. She had rented out the
entire
theatre on Main St., and the place was pretty full! It was a duet that we'd be performing and as it got closer, I was scared out of my mind and body sitting backstage with her! I spoke to crowds regularly for a living, for many years, I did not expect this sort of anxiety! I remember turning to my daughter and telling her, "I think I'm going to puke!" To which she responded, "Well, go out in the back alley and do it, but hurry up!" So, I tried. I was not successful and I came back in and sat next to her again. She said, "Take three slow deep breaths, you won't be able to see anything except bright lights, you won't see the people." "Think about the first 3 lines of the song only and then everything will be fine." The very message she was actually conveying to me, at such a young age, was that
focusing on the perception of the performance instead of the performance itself, was counter-productive!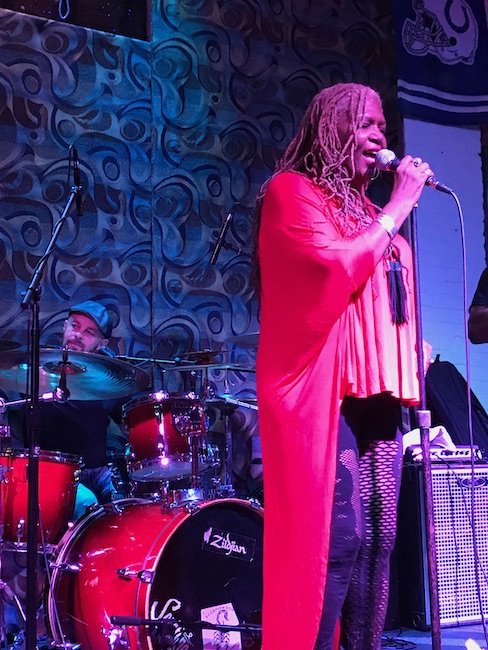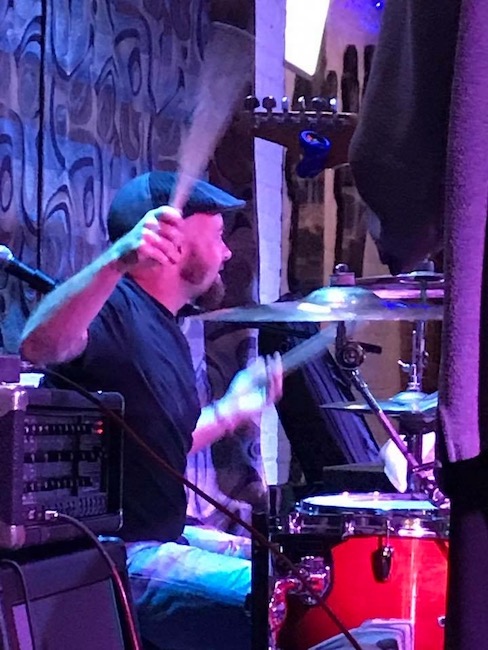 Several years later, for my birthday, the amazing PATINS staff arranged to have dinner for me at a historic and awe-inspiring blues music location in Indianapolis, where I was not only treated to great tunes, I was eventually invited onto the stage by the powerful and amazing singer; yes, the PATINS staff repeatedly yelled that I was a drummer and that it was my birthday. Even though I hadn't sat at a drumset in years, I thought, "this will be fun and I'll just have a good time for a few seconds while they sing the birthday song to me." Well, they actually kicked right into one of their set-list songs and I had a decision to make immediately;
give this smooth band a beat or don't! I did!
I had a blast and was playing my heart out for about 3/4s of the song, when the lead singer turned away from the crowd, faced me, and gave me a nod of approval that went straight to my soul! Yes! ...then, in slow motion, I saw the drumstick in my right hand flying away...away... away...nooooooo! Indeed, a split moment after I received her approval, I started thinking about all the things she might have liked and what I could do next to really make the rest of the song rock, and
those
thoughts, while in the midst of performing, proved detrimental to my even finishing the song with any amount of dignity at all! This amazing singer stopped the show, turned around, and said, "
that's why we hire professionals
." We all had a good laugh, but she was right.
A true professional separates evaluating from performing.
Those two things cannot usually happen simultaneously while upholding optimal versions of either!

Since that embarrassing accidental drumstick toss into the audience, I find myself spending a few weekends a month during the warmer seasons of Indiana coaching new riders to learn and apply the skills necessary to obtaining their Indiana motorcycle endorsement! During these classes, student ability and experience varies significantly, but the one thing that I've found holds absolutely true for all of them is that performance decreases the very moment they start to evaluate themselves and/or worry about my perception of them WHILE they are performing the exercise! This has been true for the brand new rider and for the rider who comes to me with 35 years of experience on motorcycles! I've started to make this a part of the class as well, as it most certainly applies to the pressures felt when out riding on the public roads.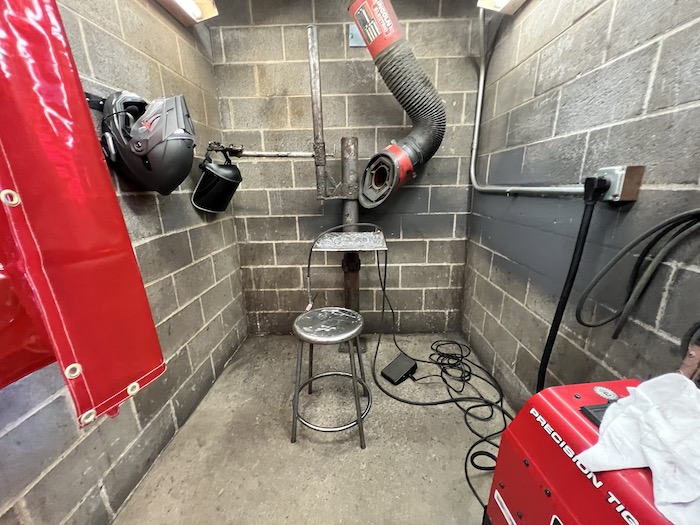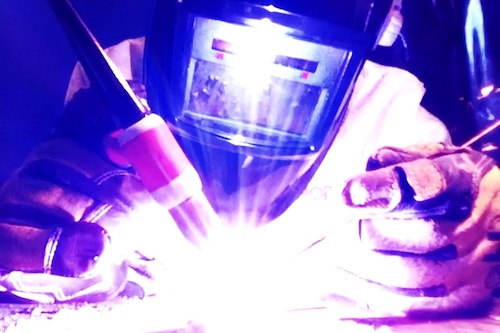 More recently yet, I've found myself on Wednesday and Friday nights from 6-11pm, inside a 4' x 8' cinderblock welding booth, trying my hardest to make beautiful welds using an electrode with 100amps in my right hand, feeding a 1/8" metal filler rod with my left hand, and my right foot on a variable control pedal constantly adjusting the strength of the electrical arc that is creating a flowing puddle of molten steel! It's a lot to type and a lot to think about! I find myself making worse and worse welds, the more I try to focus on the things like, "are my hands in the right place for the end of this stringer?" "Did my foot just let off unintentionally?" "Is that my left pinky that's starting to go numb?" "shoot, my teacher is going to point out that underfill for sure." In my mind, the more I tried to notice things like that as I went, the better I would become at improving them. The reality is that the more attention I paid to those sorts of things as I was welding, the worse my welds became!
Attempting to critically evaluate, while performing the act, is not productive!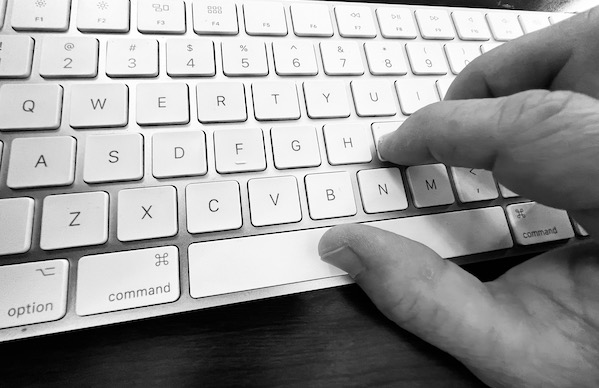 Finally, and most recently, I was having dinner with a couple of professors at Purdue this week, and this very topic came up, coincidentally! It was specific to finger tapping though, and the notion that one can typically tap at a much faster rate when they are not consciously aware of their tapping rate! If you are any sort of a typist using a traditional type of keyboard with your fingers starting on the home-row, etc., you may have noticed that you are able to type much more quickly when you are focused on the content, on the next idea, or on the composition as a whole, than you are when you are actively thinking about trying to type fast! This is the very same principle! One cannot usually type their fastest while they are actively focused on typing fast! Go ahead, give it a try right now! Try focusing entirely on typing quickly and then try typing and focusing on the content and compare!
Right about now, in the school year, is when things always tended to start to become tiring for me as a teacher. And right about now, as we head into October, is often when things start to feel more burdensome as an administrator as well. I'm not entirely sure of all the reasons for that, but I know that as a state, we are in the midst of many changes, and thus as organizations, school corporations, and cooperatives, we find ourselves in the midst of change as well. Change can be difficult and scary, and sometimes very rightfully so! Regardless, the conclusion I've come to after having done this and gone through many changes for going on 17 years with the
PATINS Project
, and in consideration of the many other examples in my life ranging from drumming to welding, motorcycling, and singing, is that
spending your time, energy, and cognitive power on trying to evaluate and/or guess at the perception of others WHILE trying to perform my best, isn't the most productive.

I can either evaluate the show or I can be the show, but I cannot do both optimally at the same time.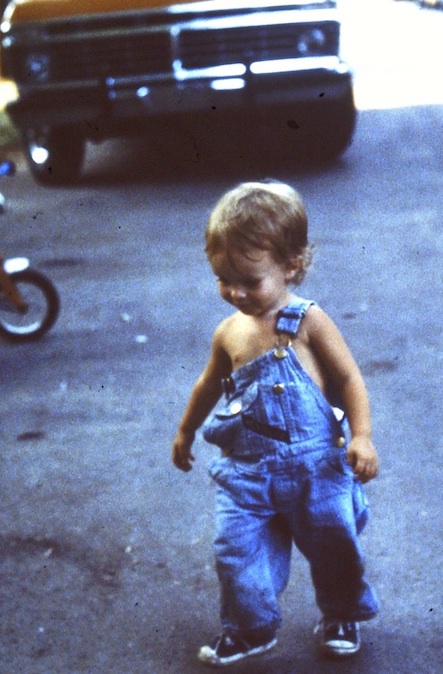 So,
now
, regardless of what it is that I'm tackling, I
try to be this much younger version of myself... head down, entirely focused on the task at hand, and trusting that any necessary feedback or evaluation will come from someone else afterward!
I try hard to:
Be prepared. I try to make sure that I ask as many clarifying questions as I can to help myself feel ready.
Not spend so much time preparing that I'm no longer taking care of my sleep, exercise, relaxation, and nutritional needs.
Conscientiously pause before beginning.
Take a couple of very slow and deep breaths.
I tell myself that it's OK to feel nervous or anxious and I welcome those feeling and I embrace the energy they can give me.
Instead of dwelling on everything that MIGHT go wrong, I try to drum up positive energy and remember that my performance will almost always be a diminished version of my best if I am evaluating WHILE I'm doing!
I trust that people around me will provide the necessary evaluation and then I can start all over, but I know that keeping the evaluative part and the performance part separate will ultimately be the most beneficial!
I also try to expect this sort of performance from those I'm interacting with! "When we expect certain behaviors of others, we are likely to act in ways that make the expected behavior more likely to occur." (Rosenthal, R., and E. Y. Babad. 1985. Pygmalion in the gymnasium. Educational Leadership 43 (1): 36–39)
In your work with Indiana students and educators; try focusing on the above 7 steps. Try this concept out with just one small task this next week or over the weekend and see what happens. When it comes to trying to problem solve for a particular student who might be struggling, for example, allow the
PATINS staff
to be the observers while you dedicate all of your focus on the performance, and trust that we'll provide the follow-up input! Then, you can begin the process of asking more clarifying questions, preparing, embracing anxiety, letting go of trying to evaluate while performing, and just giving it another shot, entirely focused on the performance itself!
We can help, but none of us can simultaneously be the show while we're trying to evaluate the show! Make us part of your team for optimal performance!
Read all of Daniel's Blogs