"International AAC Awareness Month is celebrated around the world each October. The goal is to raise awareness of augmentative and alternative communication (AAC) and to inform the public about the many different ways in which people communicate using communication devices." - International Society of Augmentative and Alternative Communication
A few things to know about AAC:
There is No Prerequisite for using AAC - as long as you are breathing, you are a candidate

Everyone has the right to communicate - treat the communicator with respect and offer AAC solutions

Presume competence/potential for the communicator - expect that communicator can learn, wants to connect with others, develop literacy skills and more

Give the communicator adequate wait time to formulate a response

High Tech is not necessarily the answer nor is any one particular device or app - complete an AAC assessment to determine the best fit solution for your student
Augmentative means to add to someone's speech. Alternative means to be used instead of speech. Some people use AAC throughout their life. Others may use AAC only for a short time, like when they have surgery and can't talk. - American Speech-Language Hearing Association
AAC is more than just high tech, fancy communication devices. It can be as simple as teaching a student gestures/signs (e.g., more or help), writing/drawing, to tactile symbols, pictures, icons/symbols, simple voice output devices to high tech devices like an iPad with an AAC app or a dedicated speech generating device (SGD).
Here are a few tools/resources to help your promote communication skills:
AAC Intervention Website by Caroline Musselwhite

Communication Matrix The Communication Matrix has created a free assessment tool to help families and professionals easily understand the communication status, progress, and unique needs of anyone functioning at the early stages of communication or using forms of communication other than speaking or writing.

Dynamic AAC Goals (DAGG-2) The primary objectives of the Dynamic AAC Goals Grid-2 are to provide a systematic means to assess (and reassess) an individual's current skills in AAC and to assist partners in developing a comprehensive, long-reaching plan for enhancing the AAC user's communicative independence.

PrAACtical AAC Website PrAACtical AAC supports a community of professionals and families who are determined to improve the communication and literacy abilities of people with significant communication difficulties.
Lauren Enders (Facebook) compiles an exceptionally thorough resource that highlights the many AAC apps/software that go on sale during October.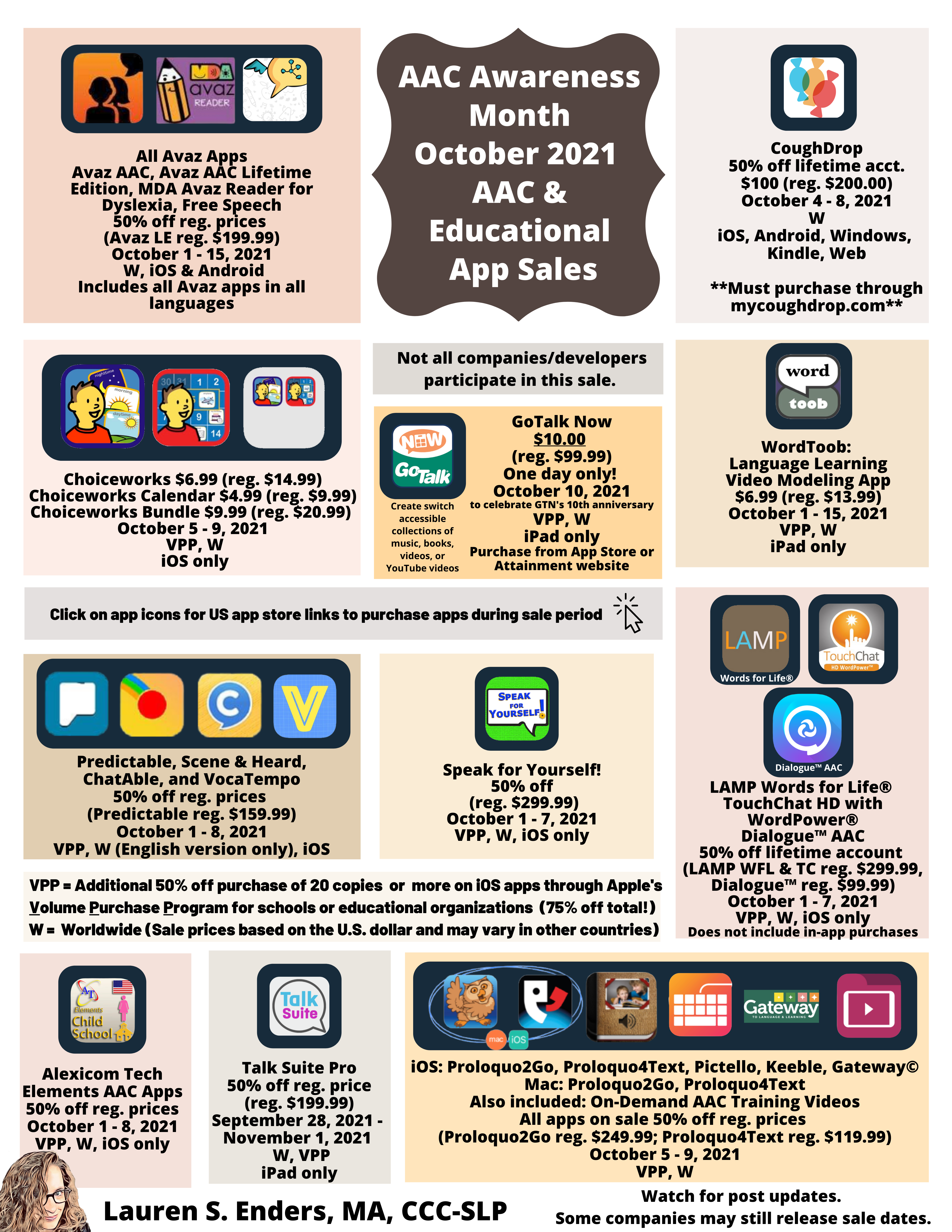 PDF with AAC & Educational App Sale information (info from above) for October 2021 provided by Lauren S. Enders, MA, CCC-SLP.

Do you want to learn more? Check out the PATINS Training Calendar. If you don't see a training that meets your needs, look over the PATINS Professional Development Guide for inspiration. The guide offers summaries to some of our most popular in-person trainings and webinars developed by our team of specialists that are available year-round upon request. These are offered at no-cost for Indiana public LEA employees.
If you have an AAC case you would like help with, request a free consultation with a PATINS AAC Specialist by completing our AAC Consultation Form. You will meet with at least one or more Specialists to review your case and help brainstorm ideas.
Want additional Professional Development? Come to our 2021 virtual PATINS Access to Education (A2E) Conference on November 16, 17, 18! Registration is open now!