We often tell our students "you're more than a number", meaning they have incredible qualities that are difficult to measure in a standardized manner. Creativity and grit are a few of these tricky to quantify metrics. Now, it's not only Indiana students who have amazing, unmeasurable talents, our educators do too. And one there is one that was particularly evident during the 2019-2020 school year - determination. Specifically, a determination to educate their students whether the learning environment was the classroom or home.
Check out the graphic below showing the support PATINS/ICAM staff have provided this school year. While you're looking at it, please remember, behind each number is a determined Indiana educator:
A general educator from College Park Elementary in MSD of Pike Township who attended the "Accessibility in Canvas and Beyond" webinar by Jena Fahlbush benefited from having another perspective - "Seeing examples of a screen reader helped me so much. I realized I was unknowingly doing so many things that would make learning more difficult for a student with low vision. After the session, I was able to make fast, easy fixes that will make learning more accessible. I also learned many tips and tricks to help students with hearing impairments or language needs as well."
A special educator from Binford Elementary School in Monroe County Community School Corporation who can spend her time more efficiently after learning about new, free tools at Jessica Conrad's "I Love Data 2" training - "I am so excited about Google Data Studio!! I cannot tell you how many hours I have spent trying to pull multiple pieces together into easy-to-read graphs/charts. Game changer!"
A cost-conscious instructional coach at an elementary in Elwood Community School Corporation who attended "DIY Fidgets & Sensory Tools to Enhance Continuous Learning" with Bev Sharritt, Jena Fahlbush, Katie Taylor, Kelli Suding, and Lisa Benfield - "I love these easy, affordable ideas that teachers can easily create at home for student use."
Note: Indiana public/charter school employees can request any of the above trainings at no-cost.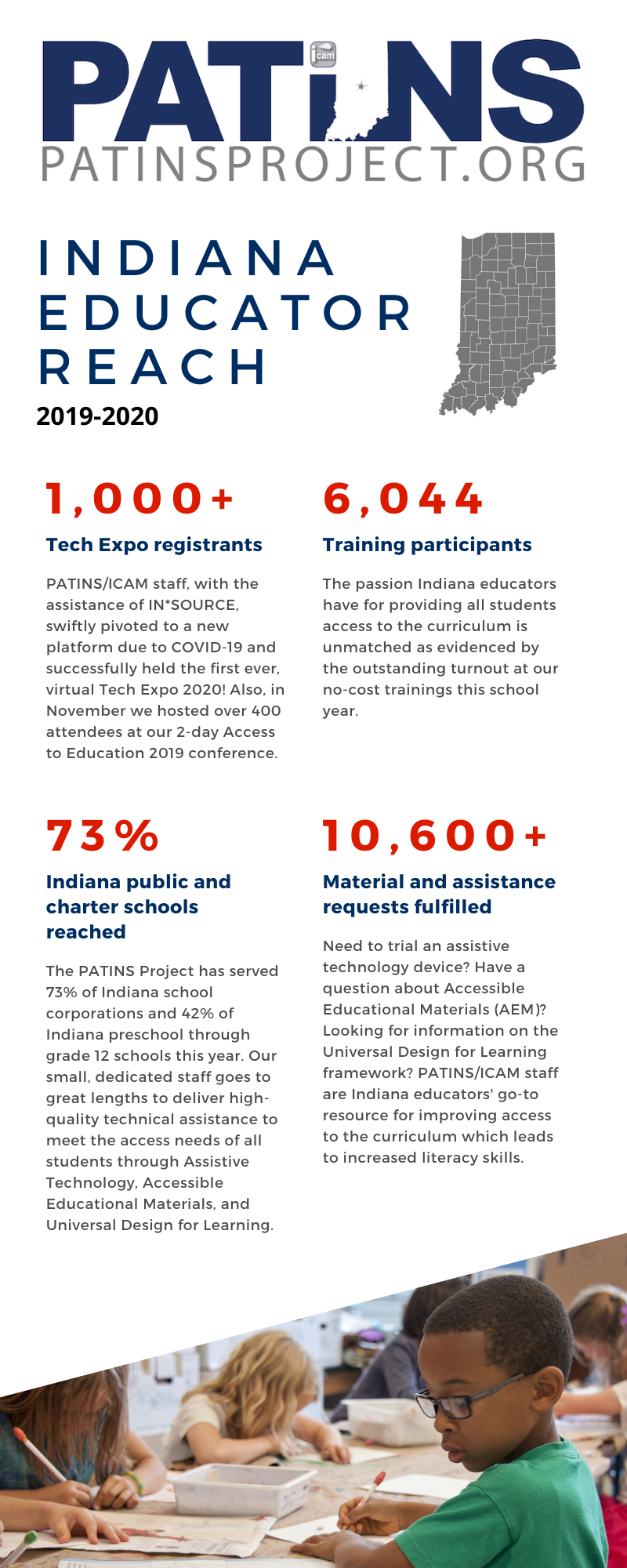 Graphic: Indiana Educator Reach by the PATINS Project 2019-2020
1,000+

Tech Expo

registrants: PATINS/ICAM staff, with the assistance of IN*SOURCE, swiftly pivoted to a new platform due to COVID-19 and successfully held the first ever, virtual Tech Expo 2020! Also, in November we hosted over 400 attendees at our 2-day

Access to Education

2019 conference.

6,044 Training participants: The passion Indiana educators have for providing all students access to the curriculum is unmatched as evidenced by the outstanding turnout at our no-cost trainings this school year.
73% Indiana public and charter schools reached: The PATINS Project has served seventy-three percent of Indiana school corporations and forty-two percent of Indiana preschool through grade 12 schools this year. Our small, dedicated staff goes to great lengths to deliver high-quality technical assistance to meet the access needs of all students through Assistive Technology, Accessible Educational Materials, and Universal Design for Learning.
10,600+ Material and assistance requests fulfilled: Need to

trial an assistive technology

device? Have a question about

Accessible Educational Materials

(AEM)? Looking for information on the

Universal Design for Learning

framework? PATINS/ICAM staff are Indiana educators' go-to resource for improving access to the curriculum which leads to increased literacy skills.
Are you an educator behind one of these numbers? Tell us about your experience in the comment section below.
Want to be a part of the Indiana educators making education accessible in 2020-2021? Here are a few ways to get started: